Citywide Gathering
Citywide Gathering
Sunday, February 19, 2017

Important: This event has already occurred.

3:30PM - 7:30PM
St. Agnes, North Vancouver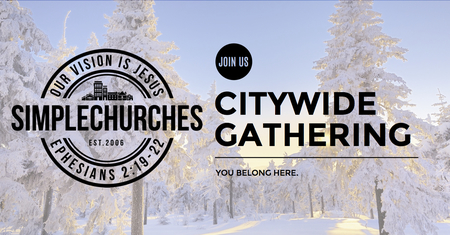 CityWide:
Our monthly gathering where all our network churches get together to eat & worship.
What is Happening:
We're continuning our series on the Book of Revelation. This time we'll be finishing up the first vision of Jesus in Revelation 1:9-19. We'll also have worship... and Jonathan and Megan Friesen will be with the older kids. !
What to Bring:
Soups On!
Here's what the other churches can bring.
Mt. Seymour - Veggies (If you are not assigned to bring soup)
Mt. Seymour Two - Veggies
Lynn Valley - Bread and Cheese (If you are not assigned to bring soup)
Vancouver - Bread and Cheese
Location:
Return to Events
---